Rizen is a new way to get your goals done. Rizen app is developed for iPhone and Mac devices with features that will help you succeed in your daily life. It is a simple and easy way to get your dreams done. Rizen's plan is to help you succeed in setting and tracking your goals, so let's figure out how it works.
Setting the Right Goals With Rizen Progress Tracker App for Mac
Setting a goal is one of the most important things you can do for your future. Whether it's to start exercising or boost your career, setting a goal before you begin working toward it gives you something to focus on and can help you achieve something important in your life. With our best goal tracker app for iOS and Mac, you'll be sure to create goals that are clear, measurable, realistic, and time-based so that they don't get lost in the shuffle.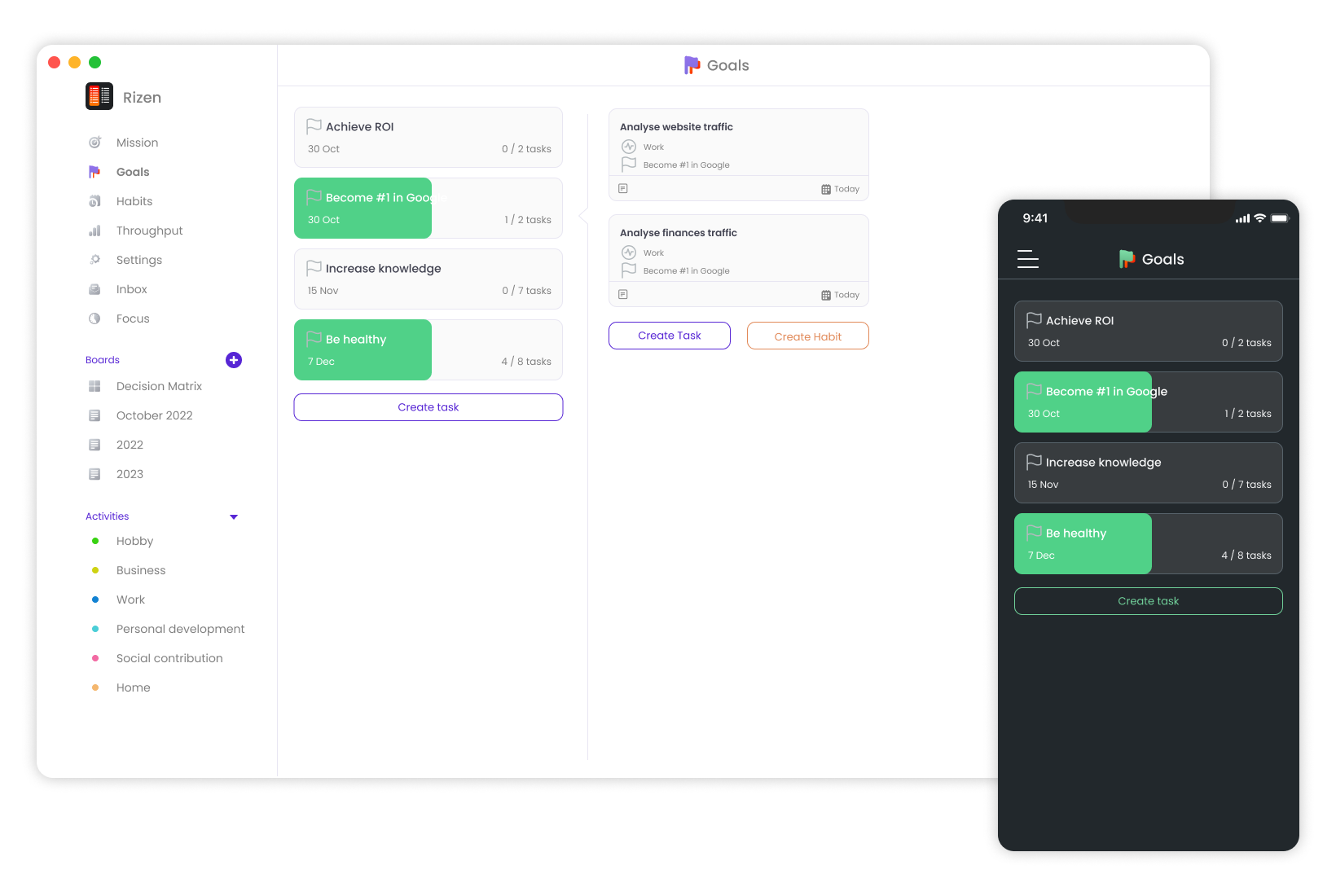 What a Goal Actually Is
A goal is a dream with a plan and a deadline. Just like many of the best things in life, goals are more easily achieved when you share them with others. Rizen is a goal tracker app for iOS and Mac that will help you with setting your goals by providing a personalized daily reminder to keep you focused on progress.
The Rizen tracker app for iOS shows you something to work towards. It will motivate you, and help keep you on track with your progress. But, actually, each of us was faced with the fact that we did not achieve our goals. So what are we doing wrong?
Don't lose focus on your goals nevermore
Track your progress in a new way with the Rizen – goals tracker iOS app


Available on macOS and iOS
Why We Don't Achieve Our Goals – Top 3 Reasons
Loss of focus
It is the most common explanation for why people fail to achieve their goals. It means that you are making decisions about the goal that don't make sense in the light of staying back on track. Things like having too high expectations, setting yourself up for failure, giving up when things get hard, or being distracted by unimportant issues can all cause this problem. The result is that you won't see progress towards your goal and may even lose motivation and interest entirely.
That is why it is very important not to forget about your goals and clearly build a plan to achieve them with a goal tracker app for Mac and iPhone.
Lack of planning
Lack of planning goals is one of the common mistakes most people make that lead to failure. They do not know what they want to achieve, so they do not have a clear idea of how to succeed. They are motivated only by short-term goals that do not require planning and can be accomplished quickly. As a result, motivation is lost, because a person does not do anything significant.
That is why it is very important to carefully plan your goals and track every step towards achieving them with a goal tracker app for Mac and iPhone.
Bad habits that keep us back
Habit is second nature that destroys the first. And following our habits, good or bad, we create a pattern of our behavior. And if you want to stop spinning your wheels and start moving forward, the first thing you need to do is identify your bad habits and change them.
Therefore, on the way to achieving the goal, it is important to track your habits and get rid of bad ones with a goal tracker app for Mac and iPhone.
How to Effectively Track Your Goals Using the Rizen App for iOS
Goal tracking is one of the most important parts of achieving your goals. Setting goals is an essential part of being successful, but setting a goal and actually tracking it are two different things. It's only once you measure your results that you can determine if you're on the right track or need to change course entirely.
If you want to reach a goal, keeping on track is one of the most important things you can do. Whether you're trying to lose weight, save money or stop procrastinating, it helps to set yourself up for success by having a plan and keeping tabs on your progress.
That's why we created Rizen – a goal tracking and setting app for Mac and iPhone that will help you become the master of your life.
Setting Goals with the Rizen Tracker App for iPhone
Open the Rizen app on the iPhone or Mac, and find the Goals section in the menu on the left side. Here you can see your Goals and track their progress.

Click on the

Create Goal button to get started.
Here is a goal creation menu. Enter the Goal that you want to achieve and select the required options.

Click on

Create when you're ready to start with a new goal.
Now you can find your goal in the Goals menu. Here you can create tasks and habits that you need to reach the selected goal.
And that's it. Now you can start achieving new goals! Track your progress like nevermore with the Rizen goal setting app for iOS.
Why Choose the Rizen Goal Tracker App for iPhone
Goal tracking has never been easier. We make it our priority to help you achieve your goals. Our goal setting and tracking app for Mac allows you to store your personal information and set a goal. Seamlessly track your progress towards that goal, check how far you have come and how far you have to go. We have developed a convenient tracker app for iPhone, that is designed especially for goal tracking & life planning in an easy way.
Synchronize data across all your devices

Share tasks with your friends and family members

Create and track habits

Unique Daily Throughput Chart
Frequently Asked Questions on Goal Tracking with the Rizen App for iOS
How to track the progress of my goals?
Our goal tracking app for iOS is the perfect tool to help you stay motivated and accountable. Once you set a goal, simply fill out each milestone box with what you hope to accomplish weekly. It's a great way to keep track of your progress, see how you're doing, and chart your progress over time without losing sight of what's important!
How to stay on track with goals?
When you set goals to achieve, it's easy to get distracted or lose focus due to a lack of planning. Our iOS goal tracking app for iPhone keeps you on track by using a daily throughput chart and helps you stay within your time frame. Set your goal time, select the timer duration, and start tracking how long it takes you to accomplish tasks.
How to keep the focus on goals?
Staying focused on your personal goal setting, using an app for iPhone or Mac, is important no matter how big or small they are. The Rizen goal tracker app for iOS will help you keep track of goals by keeping you accountable to the people who matter. Achieving a goal with the help and support of others is a rewarding experience, so get started today!
If you need any extra tips on personal efficiency or advice on how to become more organized you can check out our articles Guide to Personal Efficiency and Importance of Self-Discipline and Focus. Or if you don't know what goals are good to set, here are 5 Smart Goals Examples to track with Rizen tracker app for Apple devices.