Mission Chart – Set the Right Priorities
Searching for a life goal can take half of your life. Another half of your life will be dedicated to achieving your life mission. If you are lucky to understand what you are going to devote your life to it will be easier to get up in the morning and make career and personal choices. Life is a trip, but who travels without a compass? 
The Rizen task manager app will be your compass. With this application and its Mission Chart feature, you will not get lost and be able to follow the planned route on the way to your main life goal. Even if your mission changes over time, Rizen will be there for you. 
Manage Tasks and Activities Wisely
We all want to contribute and feel that everything we do has a purpose. Every person is a unique individual and you obviously can provide value that nobody else can. This unique value will be your life purpose or life mission. And don't forget that you are part of the constantly moving world and changes are inevitable in our life and everything around us. That's why there is no ever problem to change your life priorities and change your life focus. The only thing you have to do is to follow the right course of action. And Rizen will help you with this.
Don't lose focus on your goals nevermore
Track your progress in a new way with the Rizen – goals tracker iOS app


Available on macOS and iOS
Steps to Find Your Mission 
We believe there is no universal approach to finding your life's mission. You can be rational, or intuitive, follow some strategy or find inspiration anywhere. The only course you should pursue is trying, experimenting, and don't stop even if you fall. But if you don't know where is the starting point, we will kindly help you with it. Here are some steps that can give your the necessary insight or give you an understanding of where to find your life mission.
1. Finding your passion
Will you be able to do something your whole life without enjoying it? Impossible. The first step to figuring out your life goals is finding things or activities that bring you joy. Clear your mind and ask yourself what makes you happy. Have you visualized something? Write it down and make a list of things that you will be delighted to do.
2. Your final destination
After having realized what you are going to do, it is important to figure out where you are going to be in 5, 10, or 15 years. Have an image of yourself, your family, your house, and your work. What are you doing in 10 years? What's your routine? Maybe, office? Or home? Or unlimited vacation? What car will you have? How will you spend your free time? Note all the insights you have and follow the next step.
3. Set up your priorities
When you find out what is your passion and where you see yourself in 10 years, try to realize what priorities you have today. They may vary: from family and religion to wealth and career. This will determine how you are going to achieve your life goal. 
4. Brainstorm and choose
When you've put everything together it's time for brainstorming. You can ask your friends or family for help, or manage all those priorities and passions on your own. You can also pause, and check all the notes you've taken on the next day or week. Clearminded and inspired you will be ready to choose your life goal. Have two or three? That's not a problem, just make some steps and you will see if one feels better than the other.  
Focus and Priorities with Mission by Rizen
Mission by Rizen is a perfect tool to follow the right path to your life goals. By creating and performing tasks and activities you can compare whether they correspond to your life mission. If, for example, your goal is to educate children, and you want to be engaged in various educational projects, in Mission you can see if it complies with your goal. If you are constantly busy programming or home affairs, this will not lead you to your life mission. The chart will show where you spend your efforts and give you insights on how to fix this.
1. To find this feature navigate to the Mission window from the left-side menu.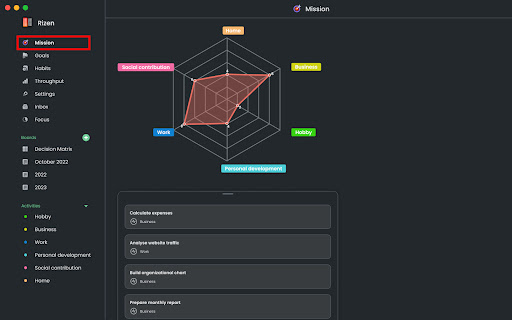 2. When you create a new task, you can choose a goal it belongs to.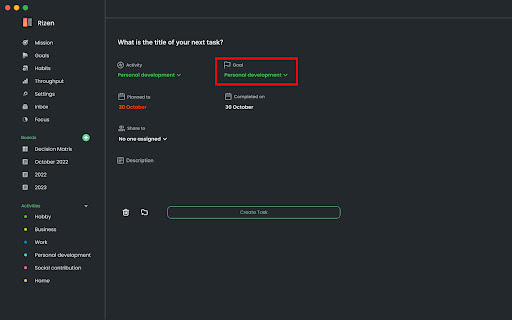 3. After a number of tasks are completed, in this Mission window, you will see a chart that visualizes how you spend your time and efforts and whether it complies with your life mission.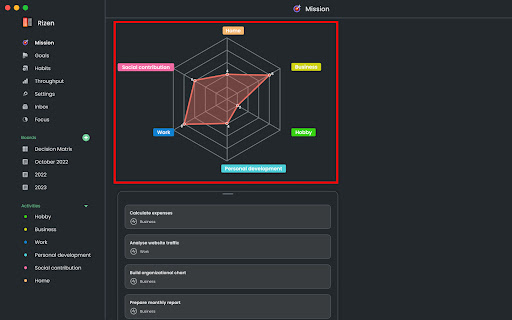 For example, the graph of the total number of tasks shows that they do not correspond to your mission, but the schedule of completed tasks will show that you are mainly engaged only in tasks related to your mission. Here you can see the tasks that can be easily delegated to another person.
Or another example: according to the general schedule of tasks, it can be seen that they correspond to your mission. But among the completed ones there are more of those that do not correspond. This is a good chance to reconsider what you are doing and change the focus.
Also, in this window, you can filter the chart by your boards. This will allow you to understand how your tasks correspond to the mission in a particular month or year.
Conclusion
Searching for your calling can be a real challenge. But luckily there are plenty of tools and task managers that can ease your searches and give you valuable insights and inspiration. Our Kizen-based affairs planner will help you to prioritize tasks, manage your life goals, and gamify your self-development process. Use Kanban boards, Pomodoro Technique, and Habit management in Rizen task manager to automate task building, plan your activities over months and years, and keep being productive and satisfied with your life plan.